Alcoholism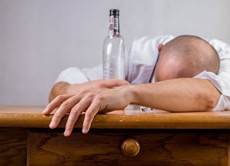 The term "Alcoholism" is a chronic disease in which an individual compulsively consumes alcohol over an extended period of time. Alcoholism is commonly associated with alcohol dependence syndrome which causes mild to severe alcohol withdrawal symptoms and is characterized by excessive sweating, nausea, shakiness, anxiety, and depression. Alcohol withdrawal syndrome can be even become so severe that it can cause something known as "Delirium tremens" which can cause severe and uncontrollable tremors, hallucinations, extreme paranoia, panic attacks, seizures, and in some cases, death.
If you're a teen or young adult currently experimenting with alcohol it may be important for you to understand the whole story of teen alcohol abuse. When teens drink alcohol, it may seem like a fun and harmless activity, you may be surprised to learn about the darker side of alcohol abuse addiction. The scary truth is, that most life-long alcoholics who suffer from chronic alcoholism started their addiction in their teenage and young adult years. While having a few drinks here and there may have seemed harmless to them at the time, they had no idea that they were really developing a life-long and destructive addiction that may one day even claim their life.
How Does Someone Become Addicted to Alcohol?
People can become addicted to alcohol because of a number of different factors. First of all, an individual may already have a genetic predisposition to alcoholism which can greatly increase their chances of developing an alcohol addiction. Environmental factors can also trigger problems with alcohol abuse, especially in teens. This can include a divorce, loss of a parent, or a move to an entirely new town or state. Oftentimes, teens may cope with these major life changes by experimenting with drugs and alcohol.
Effects of Long term Alcohol Abuse
While alcohol abuse or binge drinking, has a number of dangerous short term effects including nausea, vomiting, reckless behavior, and alcohol poisoning; the long term effects of alcohol abuse can be downright scary. Because alcohol is a poison, it can utterly destroy vital internal organs in the body such as the liver, stomach, heart and brain. Long term alcohol abuse can cause a number of liver related diseases such as cirrhosis of the liver, alcoholic hepatitis, scarring of the liver, jaundice and liver failure. Heavy drinking can also increase the risks of certain type of cancers, such as cancer of the esophagus, throat and mouth. Excessive drinking over the long term can also cause brain damage, pancreatitis, and ultimately death.